CHINA - JAPAN TENSIONS ESCALATE
What a sad turn of events.
I have always thought relations are only bound to become better between Japan and China (PROC) but recent spate of events prove that hurt and sad memories continue to haunt many Chinese. A review of Japanese atrocities would be in order here but I am not in the best position to discuss the matter. I can only think of the 1937-1938 Rape of Nanjing where about 300,000 civilians were killed by the invading Japanese army (explained to me in detail by JGC), and know that it definitely is a sore point in Japanese-Chinese relations.
And now this. Filipinos are aware that Japanese textbooks continue to conceal from the younger generation the truth about Japan's role in World War II. However, despite several on-and-off apologies ("palliatives", I call theme) issued by Japan (but only by the Prime Minister but never by the Imperial Family!), their textbooks somehow still do not reflect these things as seen in the recent changes made in Japanese textbooks that continued to gloss over many sad facts in history.
I suddenly remembered how, in 1995, during a visit of a group of student from Sophia University to Xavier University (we were sister schools, both being Jesuit-run), we partner-guides were requested not to discuss the war with them
"because they don't have any idea about what happened, and that our guests might just end up being offended."
In fact,
WE
were ones who felt offended by this "request".
When the Japanese came, it turned out that they were the ones who demanded that we discuss the war with them, and this we did although only when the University people are not around.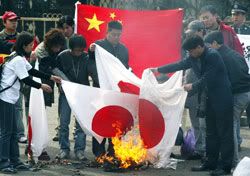 Flag burning in China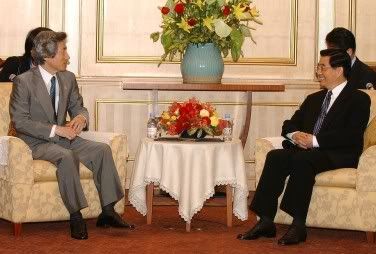 Prime Minister Junichiro Koizumi and Chinese President Hu Jintao, APEC Summit 2003
These recent events are results of a tension building up since last year, no thanks in part to US intervention in the matter (how it intends to cash in on the tension, I have no idea).
During her Asian tour last March, Rice repeatedly stressed that Washington would back Japan in the region and supported the Japanese desire for permanent UN
Security Council veto status. In Tokyo she called on Japan and other countries in the region to unite and demand that China "eventually embrace democracy." She
openly opposed the recent effort of the European Union to lift the 1989 arms embargo on China as well, and warned of a new Chinese threat against Taiwan.
Last December, under US "encouragement", the Koizumi government issued its 10-year defense program which for the first time openly named China as a potential threat. Two months after, in February, Japan explicitly agreed with Washington that the Taiwan Strait was a "common strategic concern" of Washington and Tokyo.
This is the first time Japan has involved itself so directly in the postwar period in the Taiwan issue,and was, not surprisingly, viewed in Beijing as a brazen interference in China�s internal affairs. To add oil to the fire, on February 9 Tokyo announced the Japanese Coast Guard would officially take control of
the disputed Senkaku Islands (Diaoyo in Chinese). As well Japan was the only major nation outside the USA to oppose the EU plans to end the China arms embargo.
Washington has repeatedly urged Japan to rearm and increase its military profile, as well as promising Taiwan that should China use force to prevent a Taiwan declaration of independence, the US would go to war on its behalf. Little wonder that anti-American sentiment in the region is rising (except perhaps in this little part of the world called the Philippines).
Why Japan continues to do this is unusual and totally regrettable. Has it ignored that fact that in the longer-term, it faces a daunting demographic challenge? According to former World Bank - China Department head, S.J. Burki, by 2025 China will likely be the world's largest economy. Japan at the same time is pre-programmed to decline dramatically with drastic population shrinkage after 2010, that is in
five years. Japanese male population in 2004 already declined by a small percent. At the same time, Burki notes China will likely demographically stabilize around 1.4 billion people and is heavily weighted owing to their population policy, to males. Compared to Japan and the USA, China is relatively debt free and its external debt is small and covered by trade surpluses.
It is in Japan's interest that it should foster and strenghten ties with its giant neighbor. This isn't the 1940's. The war is over. The risk for Japan is not small. In the past decade, especially the past 5-6 years Japanese industry has massively invested in outsourcing to China for its manufacture. Between 2001 and 2004 Japanese exports to China rose 70%. At the same time China dependence on Japan has diminished. During the 1990�s Japan was China�s most important trade partner. By 2004 the EU had replaced them followed by USA and then Japan as third. Over the past several years, ASEAN trade and investment has markedly shifted from the US to China
as main focus.
This is a great topic that must be discussed in the next ASEAN + 3 Security Forum.
I hope that these two countries realize that continued peace between them will benefit not only their relations, but ASEAN, Asia, and the world as a whole.
This really is the last thing we need at the moment. As if our problems with Myanmar, the Philippines' South, and North Korea are not enough.
Sigh.