DOING A CORY?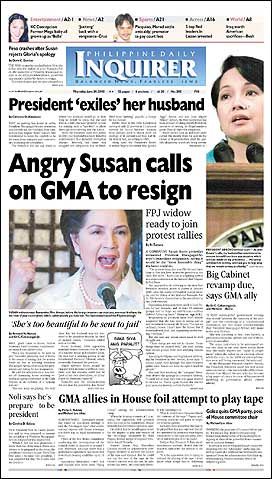 Not quite but I'm not surprised if her supporters insist that she head the rallies to topple the President. PGMA must play her cards right now. She just lost a major battle - that of keeping Roces out of the limelight.
We all know what widows are capable of doing in this country. Already, the peso crashed to a 5-month low of Php 56.05 to the $US after Roces rejected PGMA's apology in a fiery speech at the Club Filipino which, incidentally, was also the same location where Cory Aquino took her oath of office. This symbolism will not be lost on the public.
But of course, considering the political scene and the rising fuel costs, this could just be a knee-jerk reaction by the market.
"A nagging issue this will turn out to be", says a stock broker. He's so right.